Click on the names below!
Its become a regular annual event the Incrowd Get Together in the Bernese Oberland.
The 4th Incrowd Get Together was a great success. Glyn has provided a video of the Alphorn antics below. (If you'd like to watch in High Definition( and who wouldn't) click the 'HD is off link' at the side of the video once playing. This will take you to an HD version (further enhance your viewing by right click and selecting full screen)
Brilliant ..Thanks Glyn
InCrowd Get Together from Glyn Jones on Vimeo.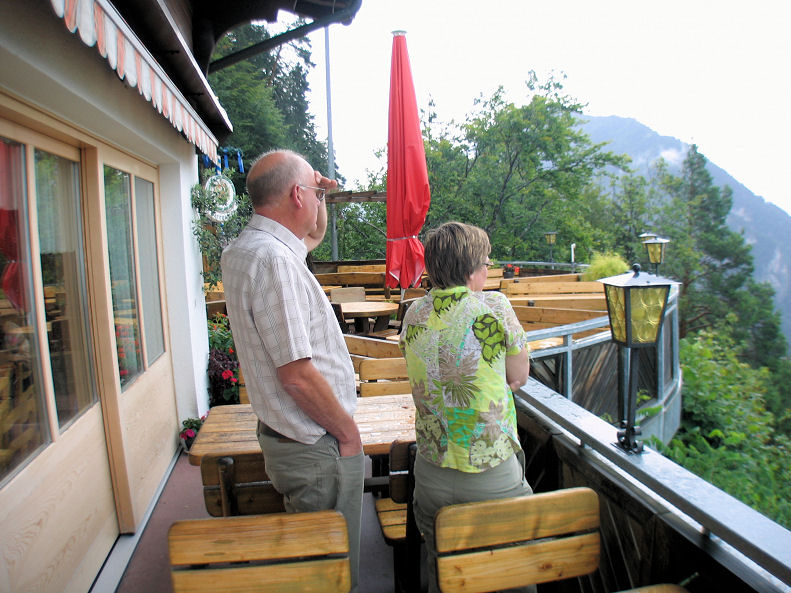 Our 'caption competition' with a picture from the Incrowd Get Together of 2007 has been won by Les and Stella from Saffron Walden UK.. mainly due to volume, creativity and sheer bloody determination. My favourite caption from Les and Stella was.."I think that's Mike at the head of the fly past" which cleverly encompassed reference to Mike's virtual flights over the Oberland, my interest in virtual flights over the Oberland, the celebration of the day, and the height of the restaurant making it a great place to watch a flypast from. So many congratulations to you Les and Stella.. YOU WIN!! Thanks to everyone else that took part.. that's you Martin (I don't know why I bloomin' bothered).. anyway it goes to prove that Essex still has some winners! Hip hip hurray for the Walkers (good name for hiking special me thinks!)