Falcon 50 transport jet over Lake Brienz
Click for a larger view!
A while ago, our friend Mike (from Infotourist) and I, spent an late night session flying in real time from one side of Switzerland to the other. To show me just how good this 'simming' lark (note simming not slimming, for which I appear less able!!), Mike had chosen to 'fly' at dawn just as the sun was rising, and well from that moment on I was hooked. However, I am not very technical in the way I fly, opting for the 'full thottle and pull back on the joystick 'approach. I'm glad to say the simulator is very forgiving!! I've been trying to learn to do it properly, and I'll be posting news on this page as I pick more of it up!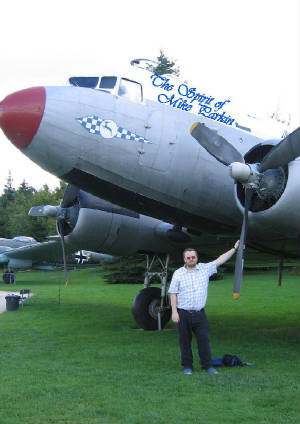 Mike then began a series of flights of the Bernese Oberland, taking pictures as he went of the flight sims lofty view of well known landmarks, which Infotourist listeners were then treated to via email! This got me thinking, and a string of radio features based on vitual flights up and down the valleys of the Oberland began.
I decided to make these flights in an aircraft of which I have always been fond, the Douglas Dakota DC3 skytrain, it's a slow ponderous but wonderful aircraft perfect for 'stooging' around the beautiful blue skies of the Oberland. The Dak would be stabled at the ex military base of Interlaken (LSMI) which, just as in real life, is perfectly centrally located for quick access to all the valleys.
I did question the length of runway, another reason for the choice of the Dakota, anyway I should worry, Mike had earlier successfully landed a Boeing 747 Jumbo jet there (which by the way is still parked near the end of the runway as there is no hope of it ever taking off again!)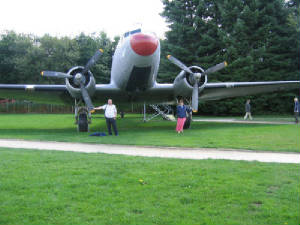 Yes it's her....the DC3 not Liz, well actually it's Liz as well!!
Liz can't stand flying with me in the Dak.. She says it 'rattles too much'.....well I am over 40!!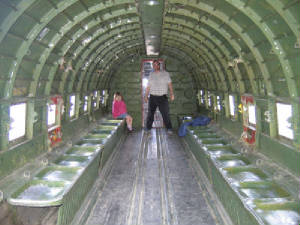 Flight Simming with Carlyboy in his Dakota DC3.
This is where
Mascha
sits! I have been fortunate to have absolutely the best crew that any DC3 has had out of Interlaken!! (umm OK my DC3 is the ONLY Dc3 to work out of Interlaken). But my crew are the best (as soon as they get back from the pub we'll take a photo and show you).
Is there truth in the rumour?
Check out the report below to the right
Most of my virtual flying around the Oberland has been from Interlaken airfield. Now 'non operational' this used to be a military airfield with a selection of my favourite military aircraft ever ( apart from the Dak of course) The Hawker Hunter. See below!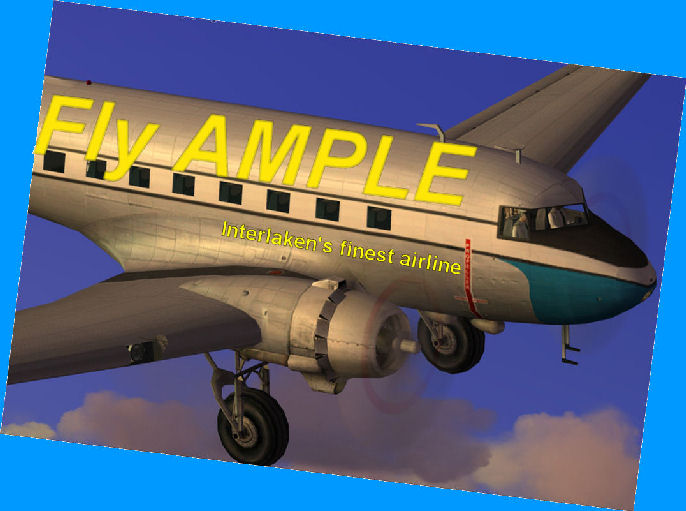 Click to read clearly!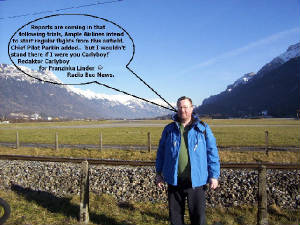 The subject of a terrific April fools joke, Mike Parkin was to be entertainments officer of a new airline to operate from Interlaken. The story made it to the press! I think the airline was to be called 'Balmers'. Regular visitors to the Oberland will probably know that this is the name of the Interlaken Youth Hostel! I prefer the name Ample Air though. The name sadly derived from a line that I have voiced on a thousand radio commercials in my career 'with ample parking'. And at this point I should add Mr Parkin is not full of figure, vigour yes, figure no. My word I'm rambling again!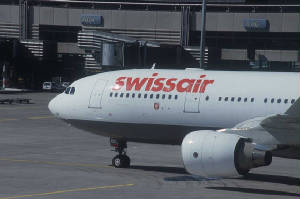 One of my colleagues at JMS has taken a keen interest in all this flight simulator nonsense, and between us we've been struggling through getting from Airport A to Airport B using the Instrument Landing System. You see I admit to being a novice. I also admit to being bamboozled by all the technicalities of flight, abbreviations and as for some of the cockpit instrumentation, well just where do you start.
As I mentioned Mike tried to teach me a bit about setting the ILS frequencies, headings and the autopilot, then regaining control just in time to manually 'flare' on landing. For me half the problem is with the keyboard shortcuts. It's the same with my train simulator. I'll be chugging along quite happily when I press the wrong key on the keyboard and end up sanding the track instead of braking. I guess the other half of the problem for me is giving it time… I just haven't got any!

Let's consider my old girl, the Douglas DC3, not Liz. It is undoubtedly the most successful transport aircraft in history. Dating from the 30's and 40's it seems difficult to believe but it was then a 'luxury' aircraft, with revolutionary facilities like cabin heat, insulated walls and running water in the toilet! 1st class executive comfort, particularly in the variant which was called 'Skylounge' It boasted just 14 seats for daytime flying. If you wanted to travel at night another variation of the DC3 was the Skysleeper complete with bunk beds! The DC3 was, and is, a classic.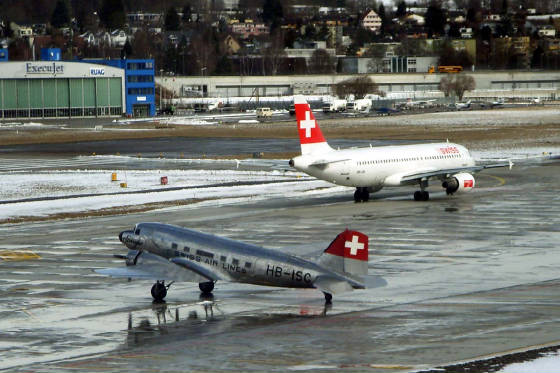 Click the above for a high resolution view.. courtesy of
bigfoto.com
A stalwart of World War 2, it's interesting that the Swiss national airline ordered 5 DC-3's before the war began. Swissair used them to begin a long nonstop Zurich-London route. With it's military connections Swissair thought it better to adopt a special color scheme for it's DC3's. After the war suddenly the trade in second hand DC3's became big business, and the Swissair DC-3 fleet was at in no time! The 1960's saw the majority of Swissair DC-3's decomissioned although I beleive you can still fly DC3 from Zurich to London in Swissair 1940's colors!
But what of my all time favourite JET? Well it's the Hunter. Beautiful just beautiful.
A few summers ago, we visited the
Hermeskeil Air Museum
in Germany where we captured the above a moment before the camera batteries gave up! (That's our excuse for such a lousy photo).
J-4001 on a landing roll in her active life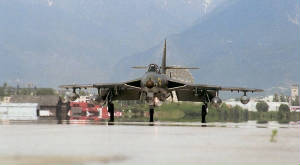 © ein jäger für die schweiz (Borgeaud/Gunti/Lewis)
For a number of us, and especially for those camping around
Interlaken
airfield, over 3 decades, the sight, and sound, of the Hawker Hunter jet was quite familiar. It's an aircraft much loved by many including me, Ahh the old days when the valleys reverberated to the sound of the Rolls Royce Avon!!
T68 Landing at Interlaken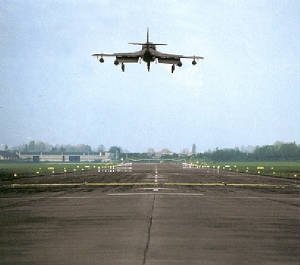 © Urs Stoller, from 'Ein jäger fur die Schweiz' (Borgeaud/Gunti/Lewis)
In researching a radio piece I did about the Hunters a couple of years back, I had a chat with Peter Lewis, author of the 'definitive' work on the Swiss Hunters. He has written two books on the subject, 'Swiss Hunter' and 'Ein Jäger für die Schweiz'. His website is
goatworks.com
.
Peter is a member of the Interlaken Hunter Club.
Below is their very own J4007.
I also got in touch with
Gordon Williams
who created the fascinating website
swisshunters.info
dedicated to the 160 Swiss Hunters. On his 'profiles' page there is a meticulously compiled list of all the aircraft with their known histories.
Built by Hawker Aircraft Limited, Kingston-upon-Thames.
First flight 27Jan56, Pilot: David Lockspeiser
Original serial XE536, delivered to no5 Maintenance Unit (Kemble) 23Feb56(RAF, new aircraft pending squadron allocation)
Modified by HAL 1957 to Mk58 specification
First flight as Mk58: 29Mar58, Pilot: Frank Bullen
Delivered to Emmen 03Apr58, Pilot: Hans Häfliger
Delivered to squadron 12Apr58
Served with SAF Squadrons: 7, 20#
SAF MODIFICATIONS Fatigue meter
Hours logged: 2541.17, landings: 1330
Out of service (and final flight) 16Dec94 at Dübendorf, Pilot Major Konrad Brändli, making this the very last Swiss Hunter operational flight by the very first Swiss Hunter!!

She was stripped back to bare aluminium and perfectly repainted by Alfred Genther, BAMF (Swiss Logistics Command) paint specialist, at Dübendorf. Aircraft returned to its original early 1960s condition, without braking parachute or modifications . Sidewinder missiles fitted.
Displayed at Fliegermuseum Dübendorf, Aug 2002
A remarkable and very beautiful aircraft.. and talking of 'remarkable and beautiful' here's the
Patrouille Suisse
airdisplay team!