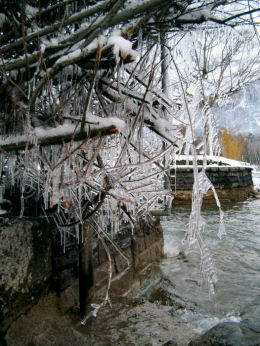 Lake Thun... you could almost go skating!!
Steve and Elaine and their children Caleb and Becky live in Thurrock, Essex in the UK .
They visited the Bernese Oberland for the first time in Christmas 2004 to learn to ski, and they tell me, they now 'share the love'. We know exactly what you mean!
In fact they were so captivated by the magical Oberland, that they returned just two months later in February!
Enjoy these wonderful photos of a wonderful family having fun in the snow ! I'm shedding a tear already!
Actually their excuse for coming back so soon was that they needed some more skiing practice.... not half as much as we need Steve and Elaine!! You all look really 'pro' in the gear!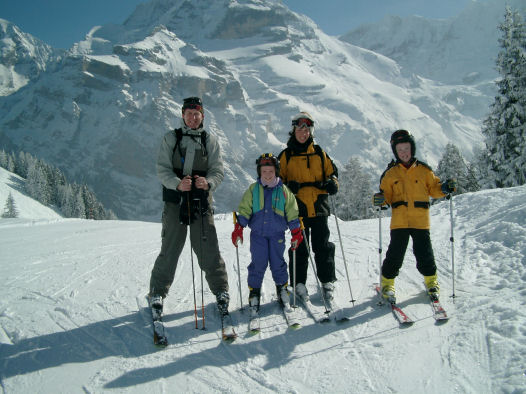 Actually a couple of hours after this photo was taken Elaine fell and badly injured her knee.... well it's all part of the holiday experience isn't it!!!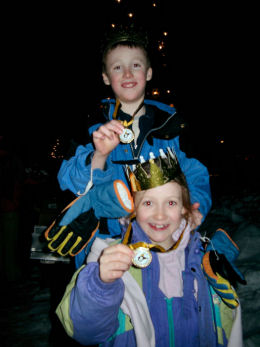 Guess who got the plastic King in the cake! Well it's three Kings day (Epiphany) in the Oberland.
Double celebrations as Caleb and Becky show off their awards from the Grindelwald Ski School. Well done!
King for a day.. or shouldn't we say Queen?!
If skiing wasn't a good enough way of breaking a leg (sorry Elaine!)... then this might just be!!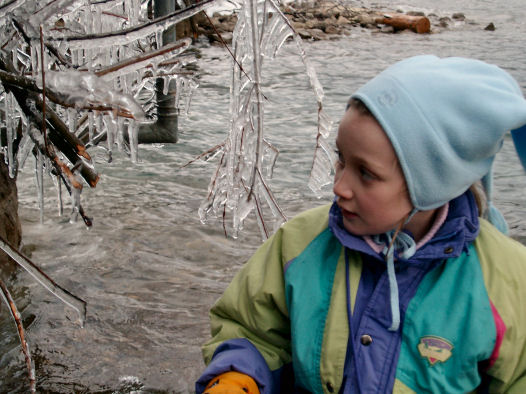 Becky takes a closer look at nature!
But where's Dad when you want to show him something?!
As Steve says 'you'll see from our photos we like to stay close to home - Lakeside! (Lakeside Thun as opposed to Lakeside Thurrock!)' Here's a local canine!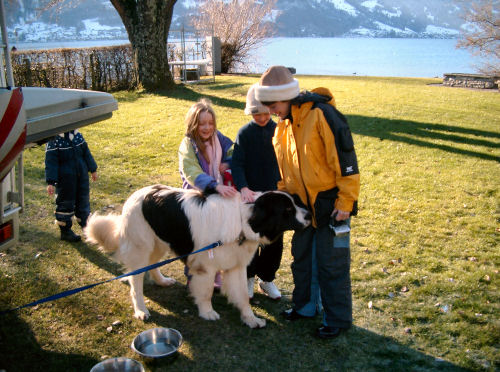 But back up a bit....to the snow...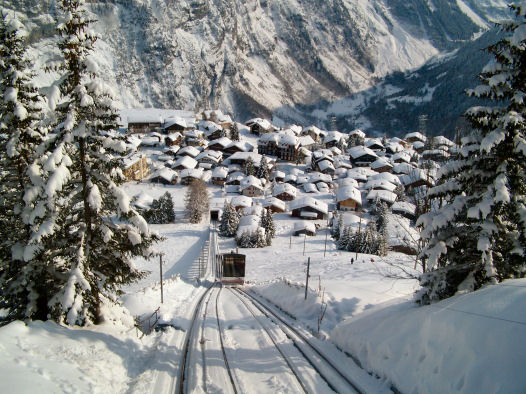 On the Allmendhubelbahn above Murren.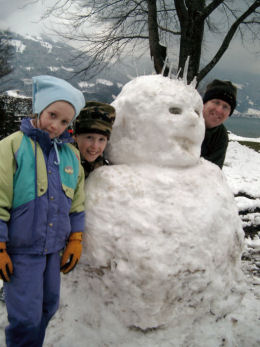 Hey you two.... great Snowman.... grungy too! Looks a bit like Mike, but not enough spikes in the hair!!!
.... and hey who is that guy in the background?!!
Steve, Elaine and family returned for more 'crows in the snow' at Christmas!
Thanks for your lovely photos, which made it up the A12 safely with Postman Pat! (and we're not talking Pat Farrell! Although I'm sure she would make a great Postwoman! I'll shut up now before I dig myself any deeper!)
Back to the In Crowd Main Page