When I originally contacted Audrey and David after they wrote in our guestbook, they teased poor Carlyboy! I couldn't remember Mike ever saying where they come from, so I asked. Audrey replied with a clue.. 'it's on the A68 near Crook, and Switzerland has forests of them' Well I couldn't think of an English town called 'Pine', so a sprint to the atlas had me scouring the County Durham map, and I found it. Yes we do have a place called 'Fir Tree' Yes really!
Trouble is, Audrey and David's quiz doesn't stop there. We have to guess the locations of their photos as well! 'No prizes for guessing though' they tell me. Let's see if you agree with me!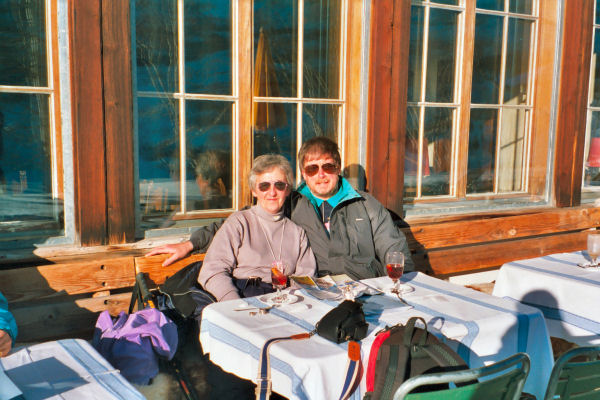 Well blimey, umm how about Restaurant Schreckfeld up on the First above Grindelwald? I'm sure I recognise that bench. You may remember Liz and I are 'Big on benches' ! Stop press! Audrey and David say 'I still have some work to do!' They've given us another clue; the gluwein is apparentely toasting the Jungfrau. Ah Kleine Scheidegg? But where's everybody else?!!
Below.. easy peasy lemon squeezy.. it's two fair maidens together. The glorious Jungfrau and equally glorious Audrey!!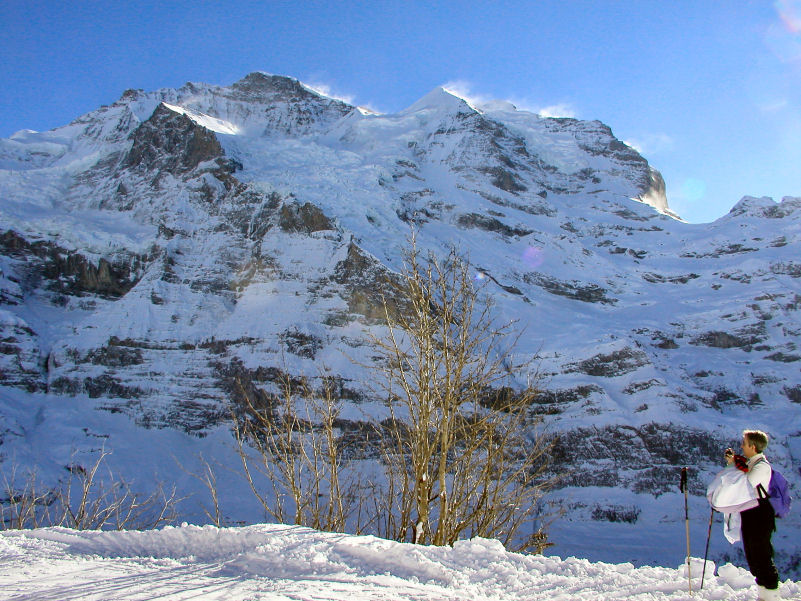 Oh that classic Grutschalp to Murren walk.. unmistakeable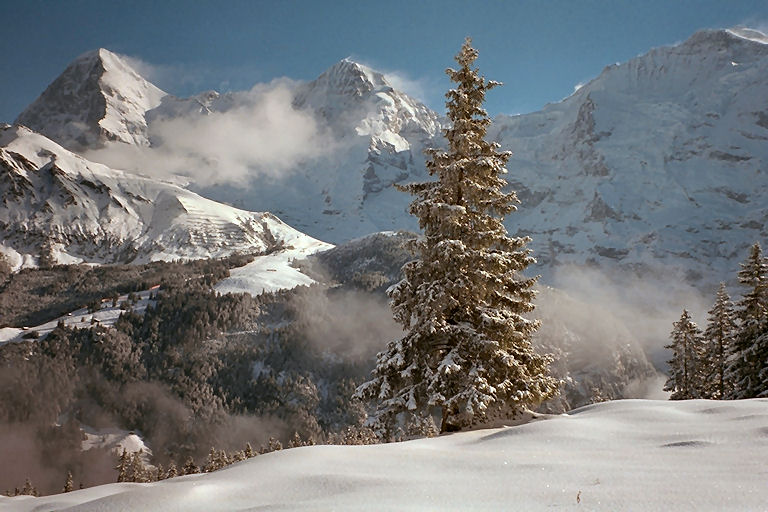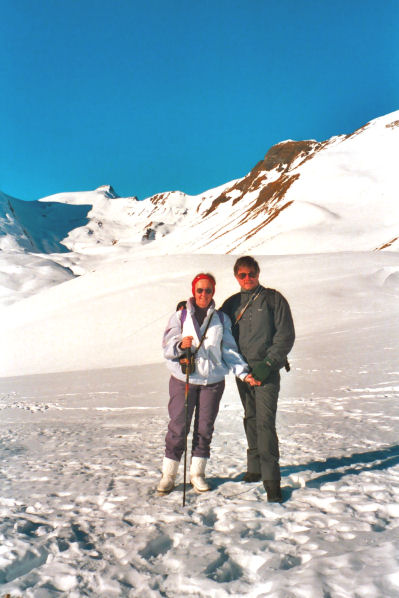 Well I think we're pretty safe assuming

that this is at Jungfraujoch?

But then maybe not. Oh Audrey!

Yes it's Jungfraujoch....

I mean look at the ridge... and the footprints in the snow!

Yes definitely Jungfraujoch.

We're on safer ground below, we reckon we did this classic Winter wanderweg in January 2005 celebrating Liz's birthday. From Grutschalp to Murren. Brilliant! Audrey looks like she's enjoying it as well!!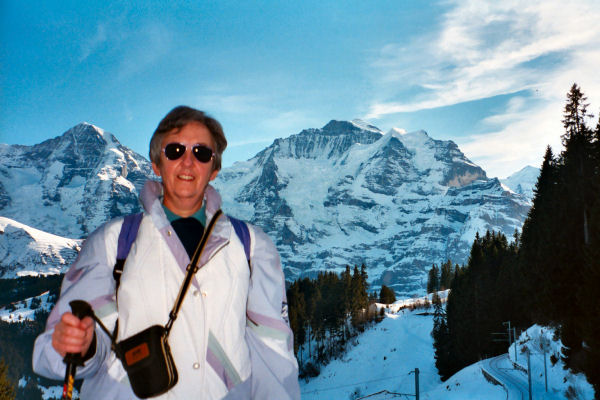 Below is Audrey.. honest!!
On the good ship Ritter!!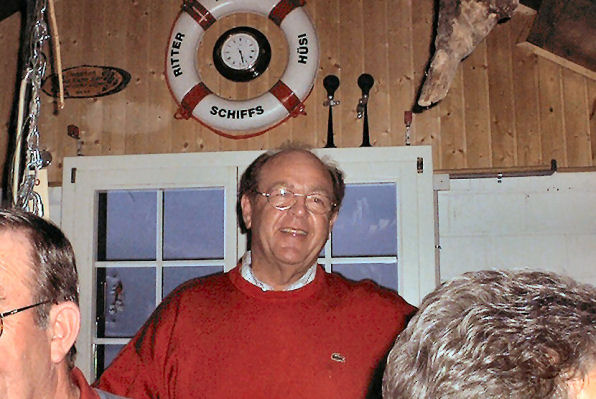 Audrey captured Max
Audrey and David have been in the Oberland for
World Cup Ski race
week up on the Lauberhorn, staying in Unterseen at the Hotel Beau-site, the proprietor of which is Mike's Landlord, Max Ritter. As Audrey says 'small world isn't it!'
Too right Audrey...it's just that some bits of it are more wonderful than others!!
Here is Mike's landlord!
And John having a blow!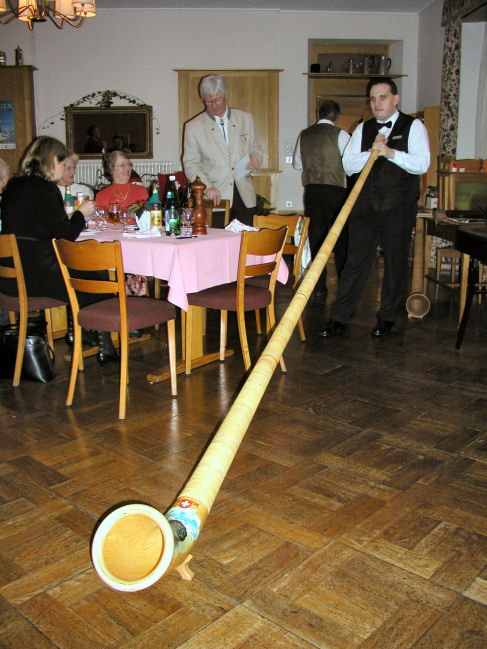 At Max's place!
Max on accordian, Beat on Saw and John on Alphorn!
Below, two ladies of the mountains chewing their cud, taken by David and Audrey walking back down to Kleine Scheidegg. Lovely!
Dave and Audrey walked over the Faulhorn in 2001.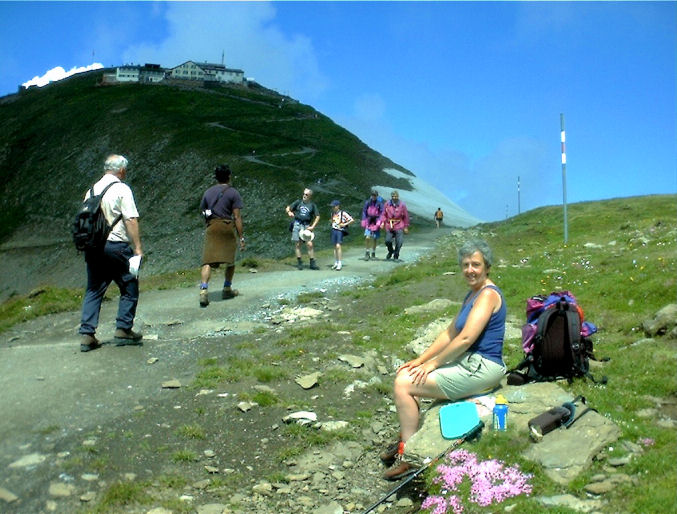 A few shots of Dave and Audrey's walk above Grindelwald First to the Bachalpsee and about turn and across to Waldspitz. As Dave says their 'days of legging it up and over the Faulhorn are... over!'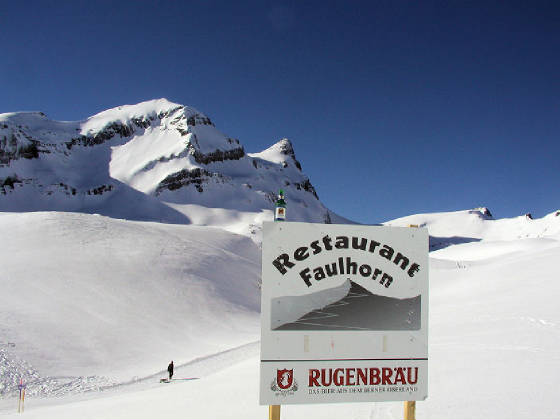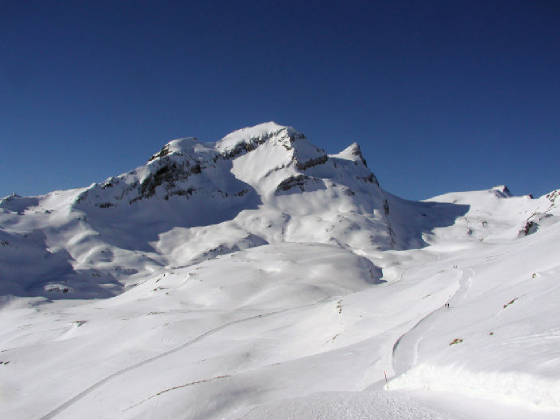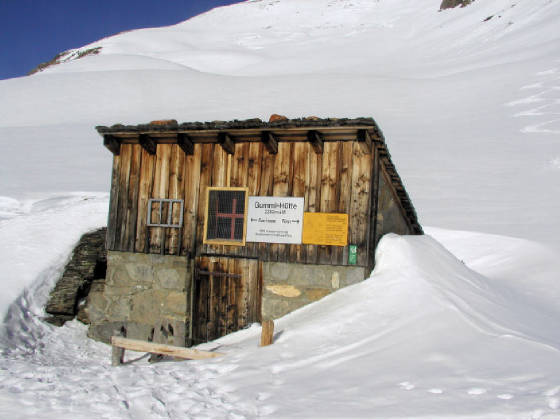 On another walk this time from Mannlichen to Holenstein a wonderful view of the Eiger.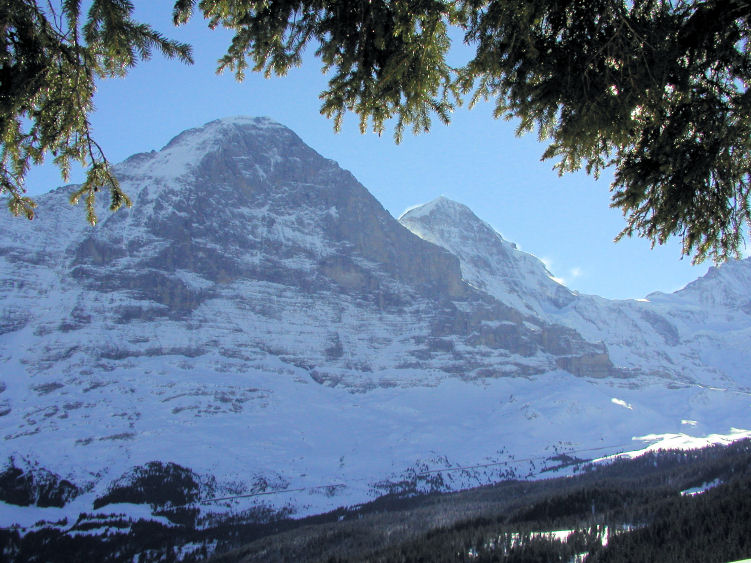 The Mannlichen is a wonderful vantage point, and heres a great way to get there.. from Grindelwald, the longest gondela cableway in the world at 6 Kilometres!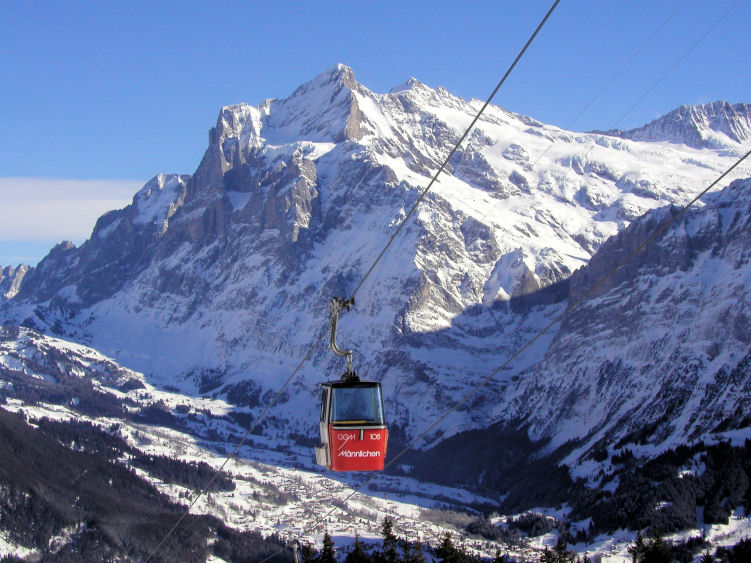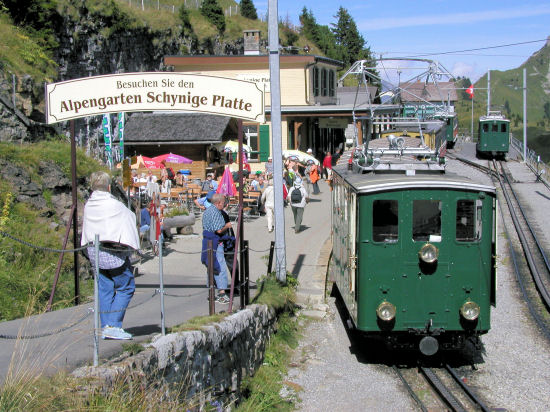 Time to visit one of the great little trains of Switzerland.. the vintage cogwheel SPB, and it's leisurely trip up to the Schynigge Platte and Alpine Garden.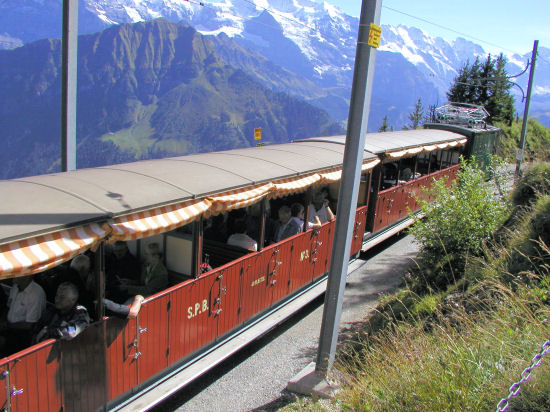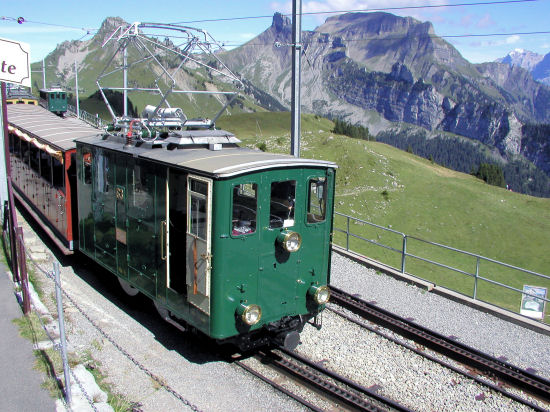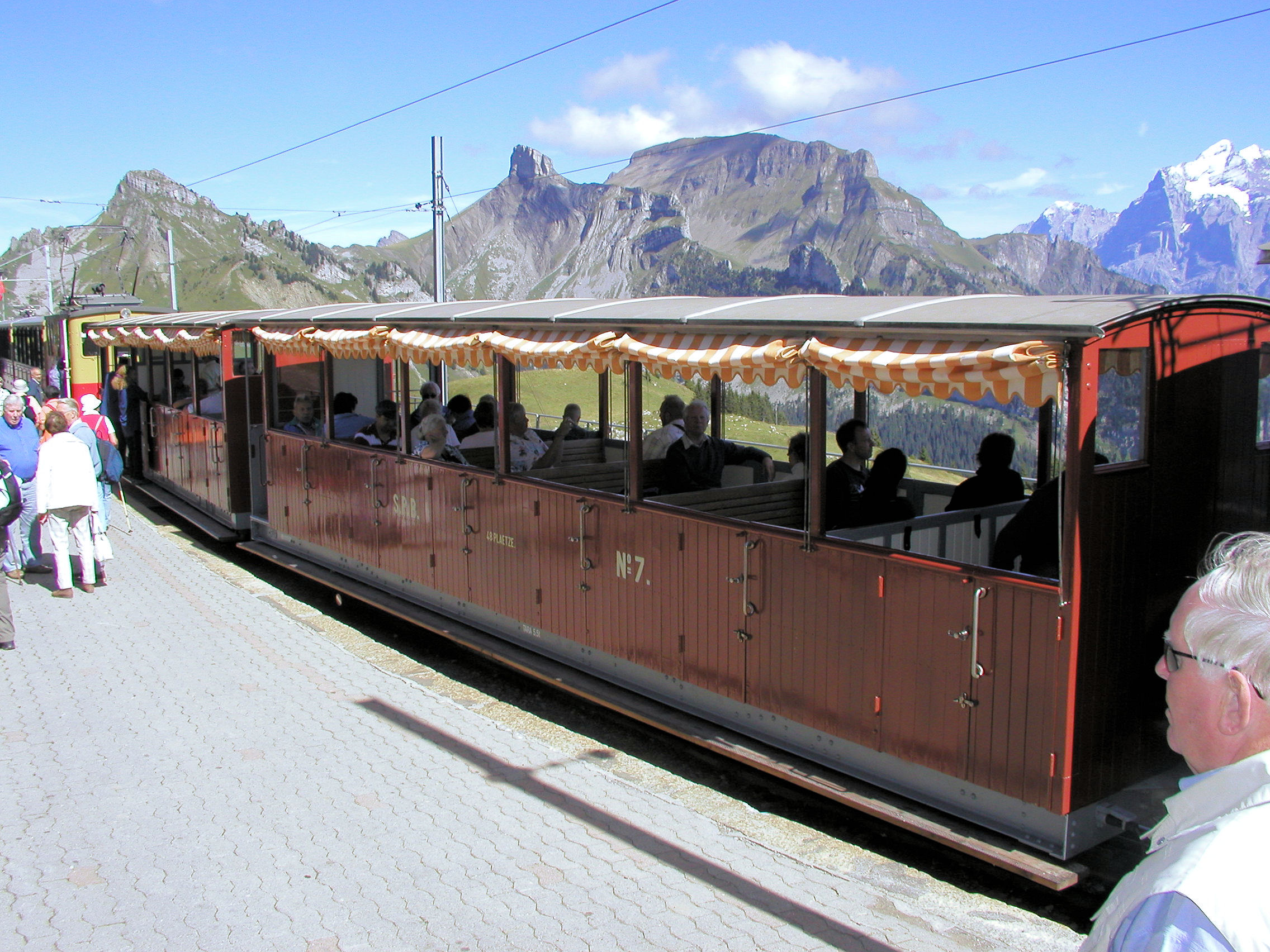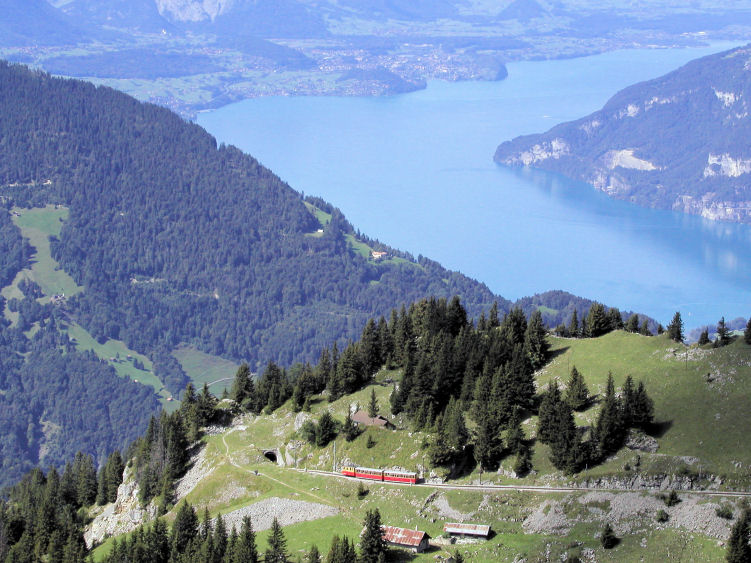 A video snippet of the SPB getting all steamed up in Wilderswil. You can right click the player and select zoom to take you to a larger size.
And it doesn't stop at static pics, we're happy to include short video items also, like this one of the vintage Schynigge Platte Railway (SPB), one of the great little trains of Switzerland.
Below Dave and Audrey with Mike and Rosemarie on a summer visit to Radio Beo in 2008.