2009 brought us all very sad news, Leslie passed away very suddenly in November. Les and the boys absolutely intend to return to the Oberland where Les says Leslie will be with them.
This page is left unaltered as a tribute to Leslie.
Leslie and Les have been experiencing withdrawl symptoms a little, having had to miss a trip to the Oberland. They normally enjoy summer vacations with their two sons camping in Wilderswil, a great place to base yourself when exploring the glorious Oberland.
The photo was taken in July 2004 in one of Les and Leslie's favourite spots, on the Allmendhubel above Murren, however as they say 'it's hard to think of anywhere that is not a favourite spot!'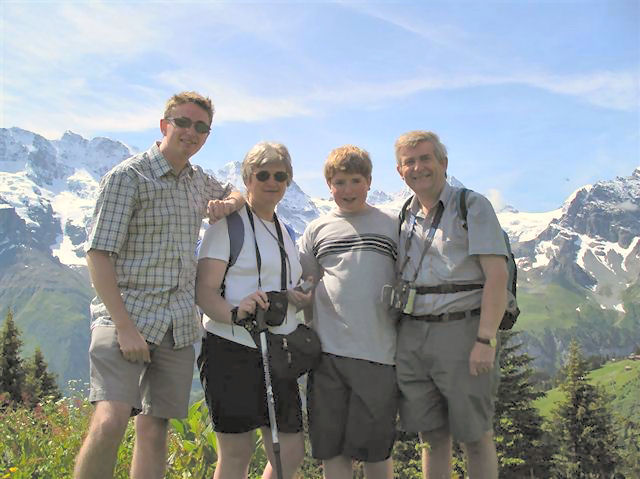 Later in the day they 'ambled back from Murren to the Grutschalp funicular to return to Lauterbrunnen'. It's a walk that I am becoming very aware is an absolute favourite amongst Infotourist listeners. Perhaps that because as Les and Leslie say.. 'you can almost reach out and touch the Eiger, Monch and Jungfrau.. we never tire of those views'. Us neither, and whether you decide to take the lovely slow BLM railway, or walk the fantastic line-side path, you will have your breath taken away. And of course like so much of the Oberland it's stunning in Winter too!
Les and Leslie hope to return to Wilderswil .'We can imagine it already, sitting outside our tent on our favourite campsite on a warm summers evening, after a day in the mountains, watching the Jungfrau turn pink, with a cold glass of Rugenbrau!!!' Oh Leslie, Les, you're making my mouthwater... and not just for the beer!
Les and Leslie have provided a couple of extra 'contrasting' photos. The awesome majesty of the Eiger, and the peace and tranquillity of the lovely village of Gsteigwiler above Wilderswil. The Bernese Oberland has it all!!
Great to see you and the family!
Back to the In Crowd Main Page